This is a fact:
Immediately after the inward pulsing transition time between the initial Valley phase of the Changed and Lasting Light event and the Mountain phase, the second part of the Changed Light event, everything you see and the place that you are seeing from instantly start rising. Growing at it's base with new areas of Changed and suddenly Lasting light, the Light Mountain rises from the Object's upper right horizon upwards on a slight curve towards the viewer on the Earth. The Light Mountain contains the original Valley area down within it's upper structure and below that in layers it contains a record of all of the resulting effects of the Shadows sculpting and shaping and creating.
This is a guess:
The Great Serpent Mound is a depiction of what the overall shape of the Lasting Light looks like at the point when the third phase of the Changed Light event occurs. The oval shaped plain is seen emerging from the suddenly falling away outer sleeve of the Changed Light Mountain.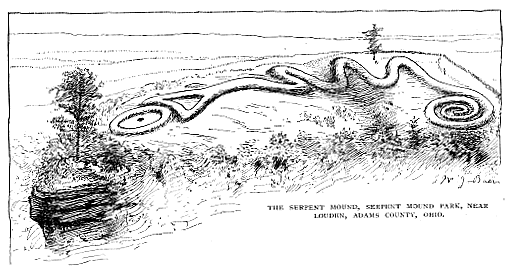 A depiction of the serpent mound that appeared in The Century periodical in April 1890
This is a fact: The Oval Shaped Plain originally started as and was once the flat layer of white clouds that originally was the Valley floor. This is the place where the first shadows that were cast by the Object's vertically standing crater rim pieces interact with the Moon's Changed Light. During the rising Light Mountain time period the floor of the sunken room contained down within the Light Mountain's upper structure was originally the Valley. Or more correctly this is the first flat area that rises up from within the clouds of the Valley floor and is the place where the Ancient Man of Light is positioned. Everything that is below this first place is created and happens later by the shadows that followed later after the big main Shadow sculpted, shaped and created the shape of The Awesome Good, The Ancient Man of Light using the Changed Light from the Moon.
This is a fact: The ancient people were very focused on the returning ancient Object and especially the Changed and Lasting Light event that the Object causes to happen when it intercepts and changes the light from the Moon. When it comes to mysterious ancient constructions, monuments, special locations and depictions such as the Serpent Mound very often the returning Object and the Changed Light is the common source and is at the root of many things.
to be continued...