I want to thank the following artists for
making their music available to use
on my BlogTalkRadio Show

Miller Family Trust
A trust fund has been established for the Miller Family to which donations
can be made.
Derek K. Miller
Writer, editor, web guy, drummer, and dad
in Vancouver, Canada.

Derek K. Miller passed away May 3, 2011,
age 41, of complications from stage 4 metastatic colorectal cancer.

Derek leaves his wife and two children behind. Please consider visiting Derek's website were you can purchase Derek's music.
Purchase Music Here
I had hoped to meet Derek one day. Though I never finally met Derek, I feel
as though I knew him. A very positive spirit who will be greatly missed.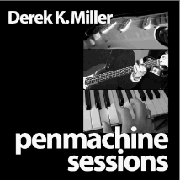 ---


---


Thanks Guys, thanks Mick





---
Lily Sparks

Lily Sparks play hard-rocking, toe-tapping songs that will make you want to shout and sing along.
---

Stephen Luke

Stephen Luke can be found playing around Cincinnati with the band "Westrock".
---
| | |
| --- | --- |
| | Kalliopi is a pop-rock singer/songwriter from Greece. She has released an album with 11 original songs called Around the world at Mikros Heros / General Publishing Company www.mikrosheros.com The album is in a much rockier vein than her previous productions and guitar based sound. |
---
Australia's best loved banana picker (turned full-time guitar picker) 8 Ball Aitken is on tour with his award winning third album,
"REBEL WITH A CAUSE".
| | |
| --- | --- |
| | 8 Ball Aitken is authentic a real deal character who rattles the roof, stomps the planks, and gets his audiences whooping and hollering along in a frenzy of pure exuberance. He plays a sizzling hot blend of original blues, roots & country music. |
None of the artists/musicians that I play endorse, support or are affiliated with me
in any way. I incorporate musical breaks within most of my shows because it's a nice change of pace, a welcome break and because I enjoy doing so, and because promoting music/bands is a positive thing to do.
The wait is finally over as "Hope and Ruin" comes out on line and in stores today! We are stoked! After sitting on this material for several months we finally get to share it with you all. Can't wait to hear how it's sitting with everybody and to get out and play these tunes live for you in the coming months. Cheers and thank you for your continued support. You all RAWK! : )
---

| | |
| --- | --- |
| Sheri Miller - "Inspired with passionate, soulful vocals, poetic, heartfelt lyrics, great songwriting, and super-catchy hooks, the stunning new CD by this authentic, rising artist is one to watch. Produced by Grammy-winning Kevin Killen (U2, Peter Gabriel)." #CyberPR | |
Purchase
CD - Winning Hand
CD - Mantra
Autographed Posters, Sheet Music & Instrumental Mp3 Pack and more

---
For the hard rock quartet megaphone,
the mission has been simple:
Saving rock n' roll from the machine,
and bringing it back to where it should be
– loud, catchy and in your face.
---
Dr. Arun Lakra is a writer masquerading as an eye surgeon. He wrote a song to impress a girl. She married him anyway.
Seven years later, this is his debut album.


---
Kelley Richey Band




Purchase Here

The Kelly Richey Band tours extensively
bringing their electric live experience to venues throughout the US, Canada, and Europe.
---
---
Isaboe's debut album Love Sun mixes lush orchestral arrangements, edgy guitars, other-worldly effects, and a soulful voice that is distinctly Isaboe.
Always with a bent for the positive, the lyrics remind you that there is light between the shade.
---
A classically trained pianist who remains one of the youngest vocal soloists ever to perform with the Russian Philharmonic, New York-based singer-songwriter Katia has a pop music style as unique as her background.
---